The Herning Trail

aka.....Three Mile Lake Trail
Winter Sled Trail
Double Ender Sled Trail
Klondike and Boston Company Trail
We just like to call it the Herning Trail. Which is the name DNR uses in historical documetation.
O.G. Herning
Orville G. Herning was born in Eyota, Minnesota on July 30 1868. He married Martha Amelia Rogers who with their son Elmer(Oct.18, 1895-August 13, 1906) joined Orville in Knik in the spring of 1901. Their son, Stanley, was born December 6 1904, while they were living temporarily in Seward. Orville George Herning was an influencial early resident of Knik. He arrived in the spring of 1898 representing the Klondike and Boston Mining Company. He also staked his own claims and eventually owned as many as 33 sites in Willow Creek and Grubstake Gulch. Herning was responcible for constructing the Klondike and Boston Trail from Knik to Willow Creek Mining District.(The Herning Trail) In 1905 Herning built the Knik Trading Co. and he operated it in Knik until 1917 he moved his buisness to Wasilla.The Herning Teeland Mead Building still stands in Wasilla on Boundry Avenue. Orville kept a very detailed diary, which is kept in Fairbanks at the UAF Archives. It is the goal of the Herning Trail Committee to acquire a copy of the entire diary and share it with the rest of the world via our web site. Orville was also a very good photographer and has left behind many wonderful pictures of the early days in Alaska. Pictures are courtesy of the Dorothy Page Museum.
THE TRAIL
The Herning Trail was historically used as a freighting and transportation corridor to the mining claims along Willow Creek in the early 1900's. The trail was built in 1900 by the Klondike and Boston Company for hauling supplies from Knik to its operations on Grubstake Gulch. This trail crossed Three Mile Lake, passed near Big Lake, crossed 2 more lakes near the Little Susitna, skirted the west end of bald Mountain Ridge, then bore almost due east until it reached Willow Creek.
The Herning Trail is located in southcentral Alaska, approximately 30 miles northwest of Anchorage. From the historic townsite of Knik on the Knik-Goose Bay Road, the route heads northward around the west side of Knik Lake, crossing Threemile Lake approximately 2 1/2 miles north. The route continues northward alongside a portion of Fish Creek and crosses Big Lake Road at the point where it crosses Lucille Creek. The trail continues northward crossing Little Meadow Creek and the Parks Highway approximately 3/4 mile north of the Big Lake Cutoff, and ending just north at the point where it meets the Alaska Railroad. The location of the trail, based on historical evidence, has been mapped by DNR, Division of Land personnel, on USGS 1:63,360 Anchorage B-8 and C-8.
This is the official RS2477 description of the trail.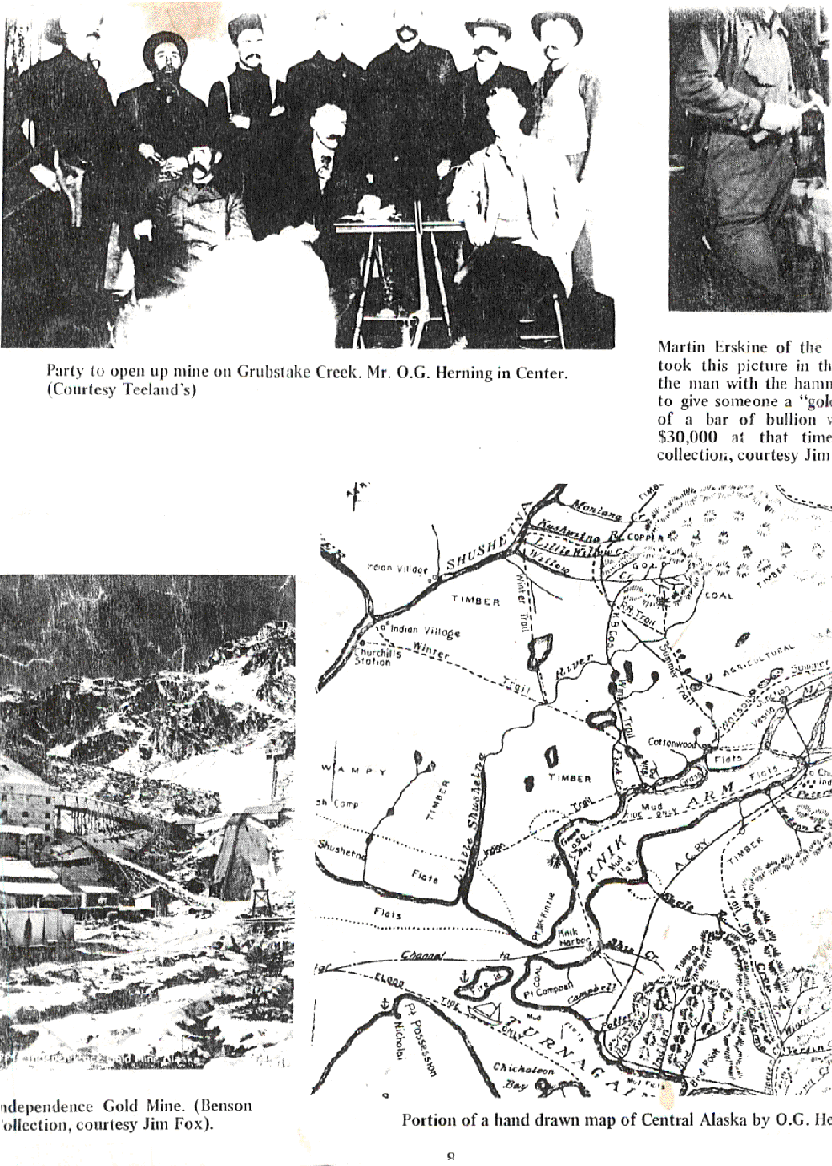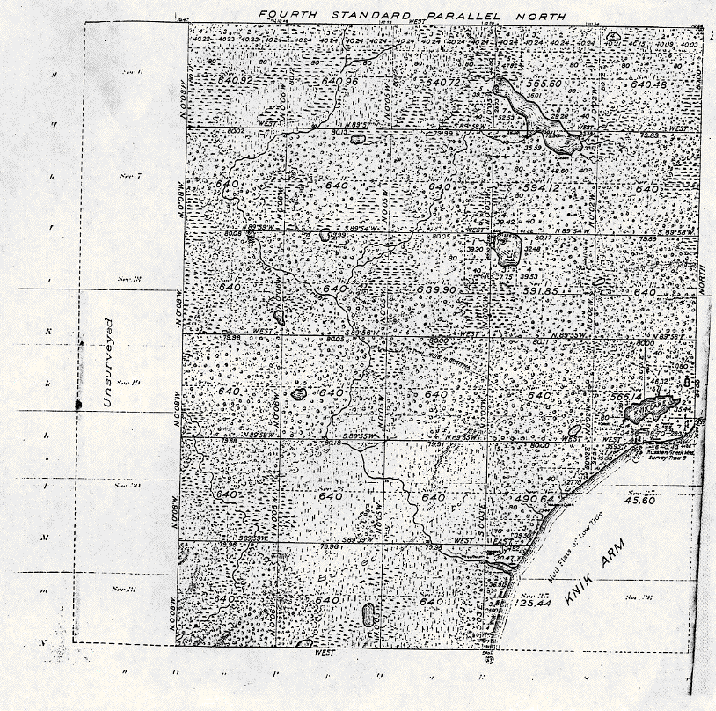 1911 rectangular net-survey